Posted by Emily on Feb 12th 2020
As spinners some of us can have a tendency to hoard piles of our gorgeous handspun, and then never make anything with it. While we here at The Woolery do believe that handspun yarn is beautiful in its own right, there is nothing better than wearing an accessory or garment made with your own handspun and receiving a compliment on the item. "Oh thank you, I made it, AND I made the yarn!"
We're going to cover some project suggestions for knitting, crocheting, and weaving with your handspun so you can have that crafty flex moment. This week's installation is all about knitting. We have some pattern suggestions for you that feature flexible gauge or yardage so you can easily use your handspun without having to stress about the yarn substitution.
Moab Shawl by verybusymonkey
This pattern is completely perfect for handspun because it was actually designed with handspun in mind! The pattern includes instructions for adjusting for various weights and yardages. It also has instructions for THREE different geometric borders so you can pick the one you like best.
Magrathea by Martina Behm
We have a couple asymmetrical triangle/boomerang shawls by Martina Behm on this list because, yours truly is a little biased and things Martina Behm is a genius, and also, these shawl shapes are very flexible and can be made longer or shorter very easily depending on your yardage! There are even instructions provided for altering your length in the pattern. This version is made from a 60% Polworth/40% Silk braid I spun up on my Lendrum Original. My yarn was more around a Sport Weight at 12 WPI than the pattern calls for, but because of the way this shawl grows from one tip on the bias, this worked out okay for me. The combination of garter stitch and simple lace show off the sheen of this high silk content yarn.
Hitchhiker by Martina Behm
The Hitchhiker is another shawlette by Martina Behm that is totally customizable in length. It's designed to be the perfect pattern for that one skein of sock yarn you know you're hoarding for something special, but it also works great for a skein of hanspun! The shawl shown above is made from a hand dyed braid of 60% Merino/40% Bamboo. You can see even in the tip of this shawl that the handspun color transitions play really nice with the garter texture of this shawl. This is also a super easy knit, I promise it looks way more complicated than it is. All you need to know is knit, slip, kfb, k2tog and bind of to work this magic, so it's very friendly for beginner knitters.
Nurmilintu by Heidi Alexander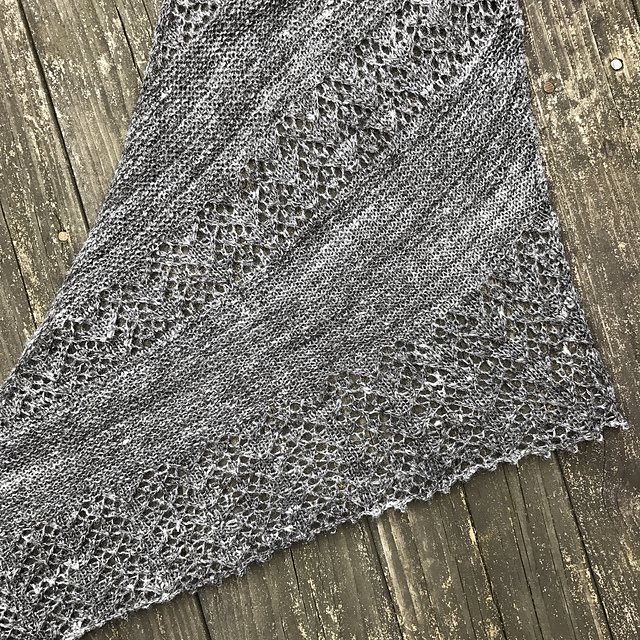 Yes, this is another Fingering Weight boomerang shawl, but what can we say? They're one of the easiest types of patterns to convert to handspun. And remember, you can really use ANY weight of yarn for these patterns, just be sure to adjust your needle size and you'll likely need more than 1 skein if you're using a larger weight. Plus, you want us to include this one because its a FREE pattern! The version shown above was made using 50% Alpaca/50% Silk blend.
Maize by tincanknits
Maize is one of tincanknits' Simple Collection patterns. These mittens/mitts are designed to be easy enough to be your first pair of mittens! Also because tincanknits always provides ample different sizes in their patterns it would be fairly easy to adjust your size to your different handspun yarn weights. Really any of the Simple Collection patterns will work great with handspun! Bonus, all of the patterns in this collection are FREE!
Shiftalong by Andrea Mowry
Andrea Mowry has a few Shift patterns written for Spincyle Yarns that will all look fantastic with handspun. The color changes of Spincyle Yarns are meant to mimic handspun color changes, so why not just use the real deal? We think it would be fun to plan out colors for one of these Shift patterns from braid to final object or pluck stash handspun skeins to build an on the fly shift!
We'd love to see your handspun handknitted projects! Tag us on Facebook and Instagram so we can look at your work and maybe share it.